Ralph Waldo Emerson said, "To be yourself in a world that is constantly trying to make you something else is the greatest accomplishment."
I would go one step further to say that to be a true disciple of Christ in a world that wants anything BUT that, is an incredible accomplishment.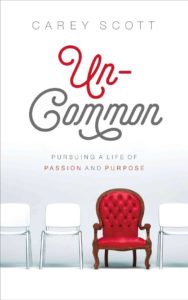 I was recently given an advance reader copy of "Uncommon: Pursuing a Life of Passion and Purpose" by Carey Scott. I had read her first book "Untangled" and knew I needed to read this, her second, book.
Upon initial hearing, the word 'uncommon' doesn't seem like an adjective I would like used with my name. However, after exploring Carey Scott's perspective, I believe being called 'uncommon' would be a high honor.
Carey offers real world, practical advice for those of us struggling with how to walk out our faith in a world which would like nothing more than to stifle it.
Each chapter highlights an 'Uncommon' virtue such as courage, gratitude, love, prayer, and more.
In the chapter covering Uncommon Courage, Carey gives us Esther as a biblical example. Carey demonstrates how Esther's unwavering courage was uncommon for the time and how God rewarded this.
In the chapter covering Uncommon Leadership, Carey offers Deborah as a biblical example. Deborah's leadership was certainly uncommon for the time. There had not been a woman in a leadership position before now. She was respected and revered. And this was uncommon.
Carey not only gives us biblical examples of these uncommon virtues, she also grants us a peek into her life. She relates to us, her readers, situations and circumstances in her own life which have required the uncommon virtues she writes about.
From the wisdom Carey Scott offers here, I know this will be a book I refer back to in the future while continuing my walk with Christ. I hope you find this resource as encouraging and helpful as I have.
I received this book from the publisher for review. A favorable review was not required and all views expressed are my own.